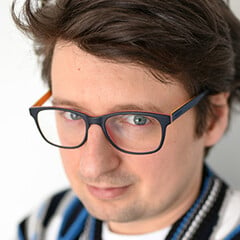 Jarek Nocon
Illustrator / Graphic Designer
Dąbrowa Górnicza, Poland
About
I was born in 1981. In 2001, I graduated from the Art School in the field of Graphics.
Then I studied cultural history at the University of Silesia, in the field of Cinematography.
I gained experience in cartographic publishing, designing maps in the old style.
Since 2010, I'm an illustrator and concept artist for the board game industry.
Skills
Illustration
Graphic Design
Concept Design
Concept Art
Environment Design
Software proficiency

Procreate

Photoshop

InDesign

Illustrator
Productions
Board & Card Games

Stellaris: Infinite Legacy

Year

2023

Role

Concept Artist, Illustrator.

Company

Academy Games

Board & Card Games

One Small Step

Year

2020

Role

Illustrator, Artwork

Company

Academy Games

Board & Card Games

Kurierzy

Year

2019

Role

Lead Artist

Company

Warsaw Uprising Museum

Board & Card Games

Grifters: Nexus

Year

2018

Role

Illustrator

Company

Indie Boards and Cards

Board & Card Games

Exodus: Paris Nouveau

Year

2018

Role

Illustrator

Company

Indie Boards and Cards

Board & Card Games

878: Vikings - Invasions of England

Year

2017

Role

Concept Artist, Illustrator (Main Box + All Expansions)

Company

Academy Games

Board & Card Games

1754: Conquest – The French and Indian War

Year

2017

Role

Concept Artist, Illustrator (Main Box + All Expansions)

Company

Academy Games

Board & Card Games

Pirate 21

Year

2017

Role

Illustrator

Company

Indie Boards and Cards

Board & Card Games

Shogunate

Year

2016

Role

Illustrator

Company

Indie Boards and Cards

Board & Card Games

One Night Revolution

Year

2015

Role

Illustrator

Company

Indie Boards and Cards

Board & Card Games

The Resistance

Year

2015

Role

Illustrator

Company

Indie Boards and Cards

Board & Card Games

Grifters

Year

2015

Role

Illustrator

Company

Indie Boards and Cards

Board & Card Games

Heroes

Year

2015

Role

Illustrator

Company

Lion Games, Rebel

Board & Card Games

Fungi

Year

2014

Role

Illustrator

Company

Pegasus Spiele

Board & Card Games

Coup Rebellion G54

Year

2014

Role

Illustrator

Company

Indie Boards and Cards

Board & Card Games

Coup: Reformation

Year

2013

Role

Illustrator

Company

Indie Boards and Cards

Board & Card Games

Vikings: Warriors of the North

Year

2013

Role

Concept Artist, Illustrator

Company

Rebel

Board & Card Games

Wunderland

Year

2013

Role

Illustrator

Company

Pegasus Spiele

Board & Card Games

Freedom: The Underground Railroad

Year

2012

Role

Concept Artist, Illustrator

Company

Academy Games

Board & Card Games

1812: The Invasion of Canada

Year

2012

Role

Concept Artist, Illustrator

Company

Academy Games

Board & Card Games

Coup

Year

2012

Role

Illustrator

Company

Indie Boards and Cards

Board & Card Games

Broad Peak (K2 Expansion)

Year

2011

Role

Concept Artist, Illustrator

Company

Rebel